Contact Me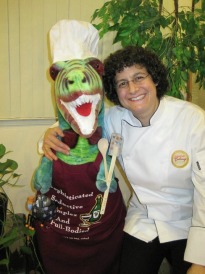 Chef Lisa & Chef Dino
---
News & Links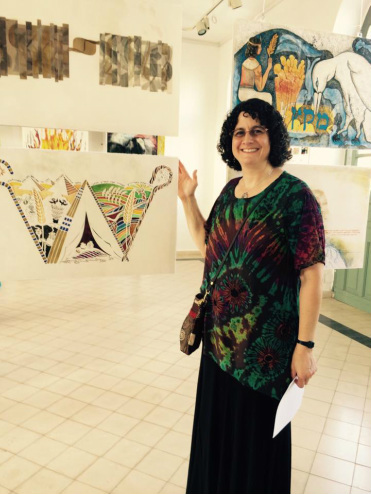 Women of the Book Exhibit, First Station Gallery, Jerusalem, Sukkot, 2015
Lisa recently returned from Israel, where she participated in the gala opening of The Women of the Book exhibit, part of the city-wide Jerusalem Biennale, an art event taking place every second year in different locations around the city center of Jerusalem, this year during the month of October, 2015. It is dedicated to exploring the places in which the contemporary art world and the Jewish world of content meet. It is a stage for professional artists, who create today and refer in their work to Jewish thought, spirit, tradition or experience.

The Women of the Book is a visual, midrashic (interpretive scroll based on the form and content of a traditional Torah scroll and created on 54 parchment panels (the number of Torah portions) by 54 Jewish women artists from around the world. The pieces will eventually be sewn together into a midrashic Torah Scroll, and funds are being generated to create an art book as well.

Lisa's midrashic parchment cut "Parashat Vayeshev" was on display, along with 49 other artist's interpretations. (4 are still in process). Lisa's piece is cut out of kosher, Torah-grade parchment and then a second piece of parchment was hand painted in watercolor and attached with kosher sinew behind the first piece. There is a video of Lisa at all stages of the creation.

---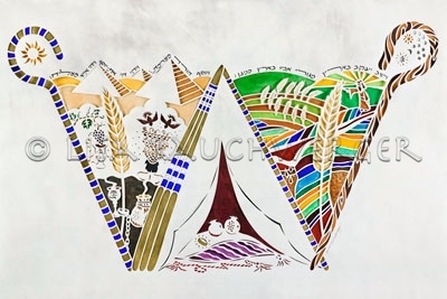 Prints Now Available!
Limited-edition, museum-quality prints are now available for each parasha, from the Women of the Book website, or purchased directly from the artist at a significant discount. Please contact Lisa for prices and more information.


---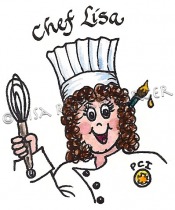 Lisa's a Chef!
Lisa completed a degree in Essential Culinary Skills from the Professional Culinary Institute (now the International Culinary Center), and holds a certificate of completion in Cake Decorating from Sugar Butter Flour Bakery. She is currently working part-time as a caterer, and part-time as an artist, experimenting on her friends and family in all matters savory and sweet, and using her artistic skills in the edible medium of fondant and gourmet ice cream!

---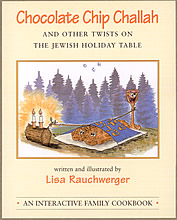 Chocolate Chip Challah in Hardcover!
My baby is all grown up! Chocolate Chip Challah finally went to a second printing and has been re-issued in hardcover! Get your copy today! (Makes a great Hanukkah gift!)
(Probably the only book that started in paperback and THEN went to hardcover! And if you order from Lisa, she will even autograph it for you!)
---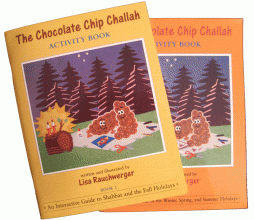 Get Your Chocolate Chip Challah
Activity Books!
In this delicious two-volume activity book set, Lisa's smiling veggies from the cookbook reappear, ready to guide you through fun-filled activities, puzzles, games, and more. Organized by holiday, the books focus on related vocabulary, art activities, and ways to make the holiday more meaningful at home or in the classroom. Each book comes with a full page of color stickers. Get your set today! (If you order from Lisa, she will even autograph it for you, if you
ask nicely!)
www.urjpress.com
Order your
Chocolate Chip Challah
books here, or contact Lisa Rauchwerger directly.
---
Klutz Books Feature Lisa's Work!
Check out other examples of Lisa's paper sculptures in the interactive book,
Twirled Paper
,
The Fabulous Book of Paper Dolls
and the photo scrapbook
My Fabulous Life in Pictures,
published by Klutz Press. Look for Lisa's 3-D jungle scene (in the twirled paper book), park scene (in the paper dolls book) and her family tree (in the photo scrapbook), all featured prominently in these fun, interactive books.
Circle Spinning Features Lisa's Papercuts
Check out the new collaborative effort of master storyteller Cherie Karo Schwartz and illustrator Lisa Rauchwerger in their new book,
Circle Spinning: Jewish Turning and Returning Tales.
Cherie spins classic traditional Jewish themes into vibrant new stories,
midrashim
and poetry, enhanced with Lisa's papercut artistry. A must see!
www.hamsapubs.com
Visit the website of master storyteller Cherie Karo Schwartz, and purchase copies of her new book,
Circle Spinning,
featuring Lisa's papercuts.
www.jewishart.org
Lisa is a member of the American Guild of Judaic Art, a non-profit organization which serves as a forum and referral service to help promote Judaic Art. The Guild's members include not only artists but galleries, retailers of Judaica, writers and many others professionally involved in the field.